Some really great blogging BFF's and I are working through the summer to bring you a Weekly Blog Hop. Our little group is called Primary Peeps & (in my eyes) are some of the best bloggers & TPTers around!!
Each week we will be blogging to bring you some FANTABULOUS freebies and tips to get in that back-to-school mode we usually put off till the week before.
Kicking us off is the one & only...Leah from Grasty's 2nd Grade Goodies!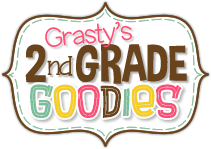 This week she is sharing an AWESOME math freebie that I am excited to get my own hands on.
Click on her button above to grab it for yourself and find out more about this wonderful tool for Back-To-School. Then don't forget to keep coming back for more. I'll be posting every Sunday to link you to the next Blog.
Enjoy - because it is never too soon to start thinking about getting back to school...well unless it's September I guess.